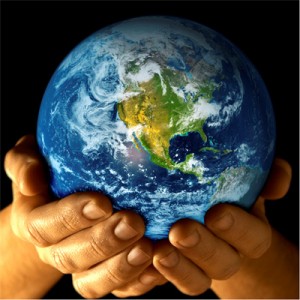 This year rather than celebrating Earth Day by advocating still more government bureaus, which will then determine for the rest of us what we can do with our property, let us instead celebrate the only real way to clean up and beautify the planet: private property rights and private stewardship.
From Chapter 2 of Leave Us Alone:
The right to property is, as James Madison said, "the guardian" of every other right. Freedom and private property are inseparable. Property is freedom: you cannot be free if you are not free to produce, use, and dispose of those things necessary to your life.
"Control the property, control the person," said Lenin, correctly.
Property, like every other right, is first and foremost the right to act: specifically, it is the right to produce, exchange, and use.
"Property is not only money and other tangible things of value, but also includes any intangible right considered as a source or element of income or wealth…. It is the right to enjoy and to dispose of certain things in the most absolute manner" (Electric Law Library).
Money is property.
The only alternative to private property is government or communal ownership of property, both of which amount to the same thing in the end: a bureau of centralized planners controlling the property.
If you desire to know precisely what someone's political viewpoint is, all you need do is find out his or her stance on property; for it is through the stance on property that the entire political philosophy is disclosed. You needn't listen to anything anyone says about "freedom" or "liberty" or any of these other easy platitudes: no one in her or his right mind will go against those things. Instead, simply check the stance on property. If someone doesn't believe in full private property rights, that person is, to the exact extent he or she denies private property rights, a statist.
Property is the sine-qua-non of human freedom.
To defend freedom, therefore, you must start by defending the unalienable right to property.
The diversity in the faculties of men, from which the rights of property originate, is not less an insuperable obstacle to a uniformity of interests. The protection of these faculties is the first object of government (James Madison, Federal Papers 10).
Government is instituted no less for protection of the PROPERTY, than of the persons (James Madison, Federalist Paper #54, emphasis in the original).
The true foundation of republican government is the equal right of every citizen in his person and property and in their management (Thomas Jefferson to Samuel Kercheval).
A right to property is founded in our natural wants, in the means with which we are endowed to satisfy these wants, and the right to what we acquire by those means without violating the similar rights of other sensible beings (Thomas Jefferson to Pierre Samuel Dupont de Nemours).
The political institutions of America, its various soils and climates, opened a certain resource to the unfortunate and to the enterprising of every country and insured to them the acquisition and free possession of property (Thomas Jefferson: Declaration on Taking Up Arms).
The moment the idea is admitted into society, that property is not as sacred as the laws of God and that there is not a force of law and public justice to protect it, anarchy and tyranny commence (John Adams).