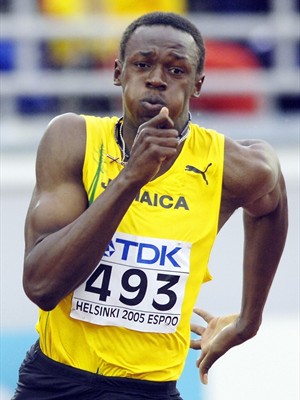 This is what happens when you treat other people's money as if it's your own to do with what you please:
London 2012 Olympics: Usain Bolt set to shun Britain over punitive tax rules

Organisers of next month's Aviva London Grand Prix at Crystal Palace had hoped to stage the first 100 metres head-to-head of the season between Bolt, Tyson Gay and Asafa Powell but the triple Olympic champion is set to shun the meeting because it would expose him to a huge tax bill.

Unless the tax rules are relaxed, athletics administrators fear British fans will be denied the chance to see the sport's biggest star in action again until he returns to the capital in two years' time to defend his Olympic titles.

"I wouldn't be optimistic about seeing Bolt compete on British soil this year and there is a strong chance he won't be back until 2012," said an insider close to the negotiations with the Jamaican.

Since April, foreign sports stars competing in Britain are liable for a top rate of income tax of 50 per cent but, controversially, the tax is charged not just on the money they earn in Britain but on a proportion of their worldwide sponsorship income.
(Link)
Usain Bolt is not the only one with good sense. Today's headline in the UK Telegraph reads:
Usain Bolt's Tax Dash From UK Causes Alarm For Ryder Cup Organisers
The article continues:
The European Tour, which stages the Ryder Cup in partnership with the United States Professional Golfers' Association, is among a number of governing bodies concerned that the Inland Revenue's policy of taxing overseas sports stars in the UK on their global endorsement income is undermining their ability to stage top-quality events.

Also lobbying for a change in the law is UK Athletics, the London Marathon and the All England Club, which has concerns that the tax issue has reduced the quality of the field at Wimbledon warm-up events, including Queen's. The sports this week requested a meeting with sports minister Hugh Robertson to discuss the issue.

…Other sportsmen understood to have avoided UK events, in part because of the tax issue, include Roger Federer, who has never played at Queen's, and Sergio Garcia, who is thought to require a top-three finish at this week's Open to avoid losing money on his week in Scotland.

The European Tour will tell the Government that the tax measures disproportionately affect overseas golfers and are a major reason why UK tournaments, including the Welsh Open played over the Celtic Manor course that will host the Ryder Cup, attract fewer overseas stars.
(Link)
All of which serves to illustrate nicely, once again, that there are producers of wealth and there are plunderers of wealth, and government, by definition, can only ever be the latter.