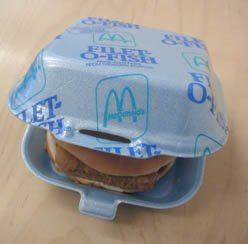 Speaking of clams without shells, it was in the late 1980's that McDonald's was bullied by burgeoning environmental groups (who were concerned about "how many trees it takes to make paper" ) into switching from paper packaging to Styrofoam containers. These containers are what McDonald's soon came to call (apparently without irony) "clam shells."
Clam shells were not McDonald's first choice. But Styrofoam is an exceptionally good insulator and so McDonald's acquiesced to this environmental strong-arming.
Shortly thereafter, near the end of the 1980's, environmentalists came along again and attacked McDonald's use of polystyrene (the technical name for Styrofoam), because in order to make polystyrene, chlorofluorocarbons (CFC's) are required, which chlorofluorocarbons purportedly poke holes in the ozone. So out of the goodness of their hearts, the suppliers of McDonald's clam shell stopped using CFC's in their manufacturing process.
This wasn't good enough, however. The clam shell came under fire again, this time for other things:
It doesn't "biodegrade" in landfills, environmental groups said — though, in fact, next to nothing, no matter how "organic," biodegrades in landfills, because biodegrading requires oxygen, which compressed trash does not have.
Another reason they gave: plastic and polystyrene "take up a great deal of space." (Untrue.)
Yet throughout this whole fiasco, McDonald's was completely compliant.
They even embarked upon the suggested polystyrene recycling program.
Pressed, however, by the Environmental Defense Fund, McDonald's, in the autumn of 1990, abandoned the clam shell altogether and supplanted it with a so-called quilt-wrap, which is paper coated in a thin layer of plastic.
So it was back to paper after all, back where it began.
McDonald's received public acclaim for this change (this was before it had become quite so vogue to anathematize corporations) and the story even made the cover of The New York Times (November 2, 1990).
It soon transpired, as you would perhaps suspect, that, according to environmentalists, the quilt-wrap was "too difficult to recycle," whereas polystyrene was not. Also, polystyrene accounted for only four percent of all McDonald's solid waste in the past, which was much less than with the quilt-wrap.
So McDonald's was yet again asked to switch.
And so it goes….
You may read all about this ongoing saga in Doctor William Rathje's excellent book Rubbish! The Archeology of Garbage, — a must see for anyone wanting to understand the true nature of rubbish, as opposed to the trash-heaps of environmental propaganda that surrounds the subject. And you may listen to an excerpt of Dr. Rathje's book here.