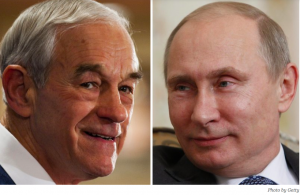 "In the Crimea crisis, it seems Ron Paul thinks that libertarianism stops at water's edge," writes James Kirchick at The Daily Beast.
He continues:
"Paul bases his support of the Crimean referendum on libertarian grounds, as if what's happening half a world away under the watchful eyes of the Russian military is akin to a Tea Party protest demanding less federal control over education policy."
In 2008, when Ron Paul was running for the first time against Barack Obama (et al), and his popularity was surging, I myself wrote an article critical of Ron Paul — an article entitled The Apotheosis of Ron Paul — which was published in a local newspaper, and which, somewhat to my surprise, generated a great deal of anger from people nominally on my side.
Now, just over five years later, I often find myself equally surprised at how frequently people still ask me about that article — mostly when I'm working.
My answer: I stand by everything I wrote in the initial article, and Ron Paul's recent remarks anent the Crimean crisis illustrate nicely why.
Read James Kirchick's full article at The Daily Beast: Ron Paul is Supporting Russia's Illegal Occupation of the Crimea