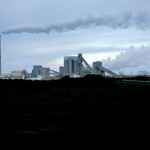 More on the inherently statist nature of that pseudo-philosophy known as "environmentalism."
From journalist Patrick Richardson:
In 2007, Sunflower Electric Power Corporation proposed a state-of-the-art coal-fired power plant in Holcomb, Kansas. This plant represented a $3.5 billion investment in one of the most rural areas of the country, $78 million in annual payroll during the construction phase, and more than 300 permanent jobs and $15 million in payroll once it was completed.

The plant, with two 700-megawatt generators, would have used technology to limit emissions. It would have been a huge economic boon to an area which largely relies on the meatpacking industry, tourism, and agriculture for jobs.

Then a bureaucrat on the other end of the state killed it. "A lot of people would be at work right now if they hadn't shot it down," Sunflower spokeswoman Cindy Hertl said.

The first nail in the coffin of the plant was the denial of an air quality permit by Kansas Department of Health and Environment (KDHE) Secretary Roderick L. Bremby. KDHE is sort of the EPA and U.S. Health Department all rolled into one. In denying the permit, Bremby said:

"After careful consideration of my responsibility to protect the public health and environment from actual, threatened or potential harm from air pollution, I have decided to deny the Sunflower Electric Power Corporation application for an air quality permit."

This was, keep in mind, before the U.S. Supreme Court issued that insane ruling that carbon dioxide could be regulated as a pollutant.

So, on the basis there might be a problem, Bremby axed the plant. Four bills and four vetoes later, then-Gov. Kathleen Sebelius left office to become secretary of health and human services.

It was so bad the Finney County Democratic Party Chair Lon Wartman left the party and issued a scathing rebuke to Sebelius.

Enter current Gov. Mark Parkinson.
Read the full travesty here.