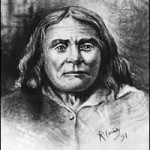 Chief Seattle was an extraordinarily intelligent and charismatic man, a 19th century leader of Puget Sound Indian tribes. In 1884 he purportedly said, among other things, the following:
The earth is our mother. What befalls the earth befalls all the sons and daughters of the earth…. I have seen a thousand rotting buffaloes on the prairies left by the white man who shot them from a passing train… What will happen when the buffalo are all slaughtered? The wild horses tamed? What will happen when the secret corners of the forest are heavy with the scent of many men and the view of the ripe hills is blotted by talking wires?
The above words have been cited by Supreme Court Justice William Douglas, in his mind-numbing autobiography; they have been broadcast over the airwaves of at least six foreign countries; and, according to a 1993 Reader's Digest report, "Chief Seattle's words" are read as "a matter of curriculum" in elementary public schools all across our great country.
Al Gore, of course, routinely trots out Chief Seattle's words in his own speeches and articles, most famously in his other propaganda publication Earth in the Balance, which predates his more mendacious Inconvenient Truth by over a decade.
The problem, of course, as you've no doubt already guessed, is that Chief Seattle never made any such speech. He was too smart and too articulate for such hackneyed lines, and doubtless the good chief would be appalled to hear that these words are being put in his mouth like so much bad pemmican.
The "thousand rotting buffaloes on the prairie," for example (shot by white men from trains), should tip off all would-be quoters of Chief Seattle that this speech is ersatz: buffalo did not "roam" anywhere near where Chief Seattle lived, nor did trains run through there until years after his speech was supposedly delivered.
Also, the "ripe hills being blotted out by talking wires" doesn't fit the timeline either.
But since when have actual facts really mattered to the religion of environmentalism?
It turns out that this speech was actually written by a university professor named Ted Perry.
Ted Perry.
He was hired to write a documentary about pollution.
The lie was deliberate, though not on Ted Perry's part.
You may read all about this story in "What Chief Seattle Said," by Paul S. Wilson, in "Environmental Law" (vol. 22, p. 1451-1468).
Or, alternatively, on the front page of The New York Times, April 1992.