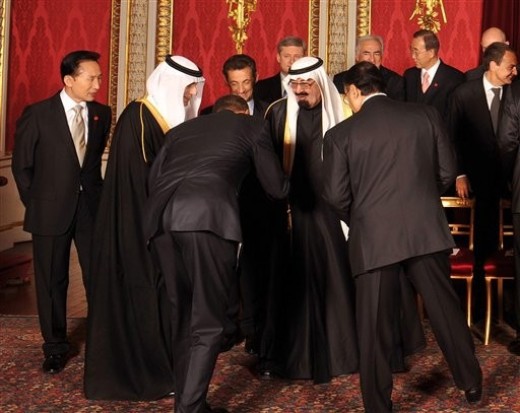 This isn't new: everyone knows and has always known that the best doctors and the best healthcare in the world are to be found in the United States. Which is why, when the chips are down, the United States is precisely where they all come for treatment.
No, the reason this particular story is a little more interesting than the usual traduce-America's-health-care-system-until-you-get-seriously-sick scenario is that Saudi King Abdullah reportedly phoned Obama the day after Obamacare was forced through congress (via the unlawful use of the reconciliation process) and congratulated him on its passage.
As Doug Powers reports:
The day after the Obamacare law passed, Saudi King Abdullah reportedly called President Obama to congratulate him. The bill, it seems, was one more step toward the US embracing a superior universal health care system like that which can be found in Saudi Arabia, where treatments for medical problems such as, oh, say, blood clots, are fully covered.
Now, the king of the country with that health care system that gives the US something to strive for won't be treated in that system, but will instead come to the US for treatment. He's lucky the law that will make US health care system more closely resemble the Saudi system — the one that isn't good enough for Saudi royalty — hasn't kicked in yet:
RIYADH, Saudi Arabia – Saudi Arabia's aged ruler will fly to the United States for medical tests over a blood clot, according to a Saudi official, in a development that would renew questions about succession in the oil-rich kingdom.

The 86-year-old King Abdullah is set to leave on Monday, three days after he was admitted to the hospital suffering from back pain due to a blood clot, the official said late Saturday. The official didn't say which hospital would receive the king.
To paraphrase John McCain's question, when Obamacare is fully implemented in America, where will rich Saudis go for health care?
(Link)