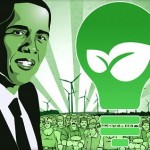 Here's an economic axiom which we've discussed here before, but which in this day and age is always worth repeating:
If something is economically tenable, it never ever needs to be subsidized.
The latest concretization of this fact comes from none other than the state-run Associated Press:
After a year of crippling delays, President Barack Obama's $5 billion program to install weather-tight windows and doors has retrofitted a fraction of homes and created far fewer construction jobs than expected.

In Indiana, state-trained workers flubbed insulation jobs. In Alaska, Wyoming and the District of Columbia, the program has yet to produce a single job or retrofit one home. And in California, a state with nearly 37 million residents, the program at last count had created 84 jobs…

…"This is the beginning of the next industrial revolution with the explosion of clean energy investments," said assistant U.S. Energy Secretary Cathy Zoi. "These are good jobs that are here to stay."

But after a year, the stimulus program has retrofitted 30,250 homes — about 5 percent of the overall goal — and fallen well short of the 87,000 jobs that the department planned, according to the latest available figures.

As the Obama administration promotes a second home energy-savings program — a $6 billion rebate plan — some experts are asking whether that will pay off for homeowners or for the planet.
(Link)
For more on the inherently toxic nature of environmentalism, please read this.